Several projects in the industrial market have been completed by Leerkes Engineering for different clients (in no particular order):
TELE Besturingstechniek Ltd. Hengelo
TELE Besturingstechniek is a leading machine builder that operates at the highest level of quality. They tackle even the most challenging projects with ease. With a team of around 25 highly skilled professionals, TELE Besturingstechniek specializes in designing and manufacturing cutting-edge switch and control cabinets for machine builders. Their expertise lies in serving the European and American markets, and they are authorized to certify switch and control cabinets according to UL 508A/CSA.
To learn more about TELE Besturingstechniek and their services, please visit their website at https://telebesturingstechniek.nl/
Leerkes Engineering has had the pleasure of working on several projects with TELE Besturingstechniek. During these projects, Leerkes Engineering independently produced the electrical schemes using Eplan Pro Panel (3D) software. Much of this work was carried out remotely, with frequent communication and collaboration with the TELE Besturingstechniek team.
One of the most notable projects that Leerkes Engineering has undertaken for TELE Besturingstechniek involved the standardization of their upscaling Biogas skids projects. The PurePac Compact is an innovative and sustainable biogas upgrading solution that features compressor and membrane separation skids housed within a single 40-foot container, with the pre-treatment unit located outside. This compact design can also be used as a complete in-building solution.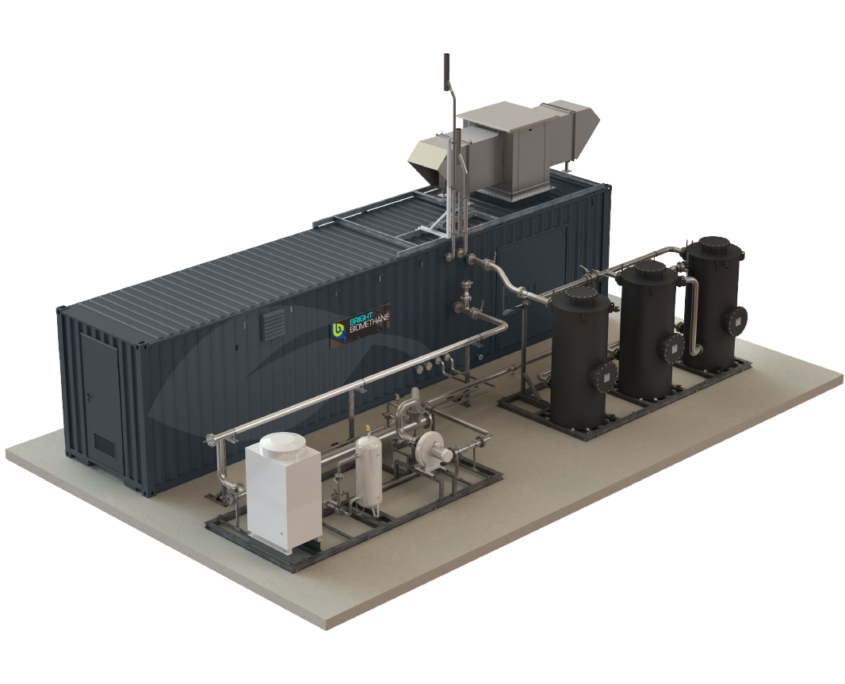 TéDé Automatisering Ltd. Meppel
TéDé Automatisering Ltd. is a trusted partner for clients in the field of industrial automation. They provide expert advice to customers not only when choosing operating systems but also in configuring them, drafting functional designs, developing application software, testing and commissioning, and training operators and maintenance personnel. They offer a complete and customized package to meet individual needs.
For more information about TéDé Automatisering, please visit their website: http://www.tede.nl/
Leerkes Engineering has completed several projects for TéDé Automatisering. They produced electrical diagrams independently using Eplan Electric P8 and Autocad, working from home and maintaining frequent communication with TéDé Automatisering's employees.
101 Industriële automatisering Ltd. Almelo
Rewritten: 101 Industriële automatisering, based in Almelo, is a close-knit team of professionals offering concrete solutions to machine builders and industries aiming for growth. With extensive expertise in processing, product handling, and robotics, they guarantee efficiency improvements and cost savings by pushing boundaries to deliver the most advanced technical solutions for their clients.
For further information on 101 Industriële automatisering, please visit their website at https://www.101ia.nl/
Leerkes Engineering has undertaken various projects for 101 Industrial Automation, whereby they produced the electrical diagrams for the assignment using Eplan Electric P8. This task was carried out remotely, with regular communication between the Leerkes Engineering team and the employees of 101 Industrial Automation.
Bright Renewables Ltd. Enschede
Bright Renewables is a premier provider of biogas upgrading, CO2 liquefaction, and Carbon Capture systems, delivering expert support throughout the entire process, from engineering to commissioning. Their systems are designed to deliver high availability and low maintenance costs, with quick commissioning and advanced automatic controls that can respond to biogas supply fluctuations. They also offer remote monitoring and customizable service and maintenance contracts to further enhance system efficiency.
Their mission is to support a sustainable future by providing economically, ecologically, and socially sustainable solutions that transform biogas into valuable products. They build, manage, finance, and develop biogas upgrading systems that convert low-grade biogas into high-grade biomethane, bio-CNG, bio-LNG, and liquid CO2, creating revenue streams and contributing to the achievement of renewable energy goals.
For more information about Bright Renewables Ltd, see their website: https://www.bright-renewables.com/
Leerkes Engineering has taken on the task of standardizing their upscaling Biogas skids projects, which has resulted in the development of the PurePac Medium, a compact and highly efficient biogas upgrading solution. This innovative system houses the membrane separation modules within a single 40 ft. container, while the pre-treatment and compressor are positioned outside of the housing. Moreover, this system can be used as an indoor unit solution, with the pre-treatment located outside of the building.
The PurePac Medium is ideal for upgrading 750 – 1,300 Nm3/hr biogas to biomethane, which can then be used for gas grid injection or as a vehicle fuel (bio-CNG). Additionally, the system can be fitted with a CO2 recovery system, allowing for the production of food-grade CO2 as an optional feature.